21 years ago, Sarah Michelle Gellar made her debut as Daphne Blake from the iconic franchise « Scooby-Doo », while not being a critics' darling, the movie was a box office success with a total gross of $275.7 million globally ($153 million domestically) which prompted the studio to release a sequel two years later. For her role, Sarah won Choice Movie Actress – Comedy at the Teen Choice Awards.
After an acrimonious break up, the Mystery Inc. gang are individually brought to an island resort to investigate strange goings on.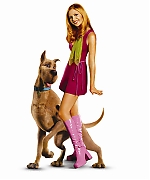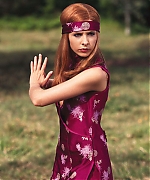 Did you know that…
— The director, Raja Gosnell, wanted a real-life couple to play Daphne and Fred. His first choice was Sarah Michelle Gellar and Freddie Prinze Jr.. Freddie didn't originally want to do the movie because he felt it wouldn't live up to the Scooby cartoons, but Sarah talked him into it.
— This film was originally set to have a much darker tone, essentially poking fun at the older cartoons, and was set for a PG-13 rating. Shaggy was set to be a stoner, Velma and Daphne had a side relationship, and there were many marijuana references. According to Sarah Michelle Gellar, after the cast had signed on, there was a change and the film became more family-friendly. However, by 2017, James Gunn confirmed that the original cut of the film got an R-rating and had to use CGI to cover cleavage.
— Sarah Michelle Gellar had to film Scooby-Doo around her already hectic Buffy the Vampire Slayer (1997) schedule. The producers of both productions arranged it so that she would spend two weeks in Los Angeles shooting Buffy, then the next two weeks in Queensland, Australia filming Scooby-Doo.
— The original script had a scene that included a joke aimed at Fred's (Freddie Prinze Jr.) sexuality. She said, « We were having a fight, Daphne and Fred, and then I yell at him, 'And that ascot makes you look gay!' And I slam the door and they cut that. » In fact, Gellar found that particular scene so funny that it became « the reason I actually signed onto the movie » in the first place.
— Sarah Michelle Gellar said in Jan. 2023 that there are multiple cut scenes from the 2002 film that deserve to see the light of day, including a steamy kiss between Daphne and Velma.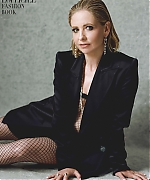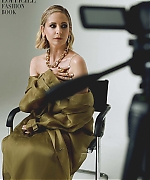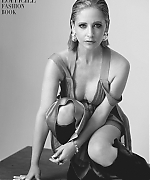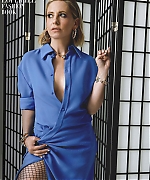 Written by Admin on avril 28, 2023 with 0 Comments
As you may know, the first season of Wolf Pack ended its run back on March 16th and since then, we haven't heard much about whether Paramount+ would renew it or not. After Sarah's multiple comments on how they have opened a writers room for a potential second season, it's the creator Jeff Davis who took onto his Instagram to share where the show stands in terms of a renewal:
People have been asking me about when Season 2 of Wolf Pack will be announced. The truth is that while we're working hard in the writers room, the show is not a lock for pickup. It may even be "On the bubble." Some shows are a hit right out of the gate. Some need to find their audience. Teen Wolf was never a true ratings success, mostly a social media curiosity. That is, until it found its surprisingly rabid and dedicated fanbase all across the world. read the rest of the post
So please use your social platforms and tag Paramount+ to let them know you WANT a second season of Wolf Pack!
Written by Admin on avril 28, 2023 with 0 Comments
Sarah Michelle Gellar will be presenting at the May 7th MTV Movie & TV Awards ceremony where Wolf Pack is nominated for Best Show.
The first round of presenters for the 2023 MTV Movie & TV Awards have been announced.

MTV unveiled Thursday the star-packed lineup set to take the stage for the May 7 ceremony that recognizes the biggest and best in movies and television, across scripted and unscripted.

The first round of presenters include Jamie Lee Curtis, Sarah Michelle Gellar, Gal Gadot, Halle Bailey, Anthony Ramos, Ashley Park, Ayo Edebiri, Busta Rhymes, Dave Burd "Lil Dicky," Dominique Fishback, Stephanie Hsu, Riley Keough, Sam Claflin, Camila Morrone, Suki Waterhouse and Tiffany Haddish. read more at the source
Written by Admin on avril 20, 2023 with 0 Comments
Sarah Michelle Gellar is the embodiment of late '90s teen dreams thanks to iconic roles in "Buffy the Vampire Slayer," "Cruel Intentions" and "I Know What You Did Last Summer." After a self-imposed hiatus she recently returned to television with "Wolf Pack," a show from "Teen Wolf" showrunner Jeff Davis which again deals with the traumas of teenhood. This time, however, she plays an ass-kicking investigator with a mysterious past as well as taking on an executive producer role on the project. "I like scheduling and budgets and all that," she tells Variety in Cannes, where Gellar is in town to pick up a well-deserved Canneseries Icon Award. (Gellar says she was also offered an opportunity to direct "Wolf Pack," which she turned down).

"I very much was ready to come back," the actor/EP explains of why she chose this moment to return to screens, although she admits there was "some apprehension." "Like, do people still want to see you? Does it still work?" The script for "Wolf Pack" initially drew her in but it was the show's deeper themes that sealed the deal. "One of the things I loved about "Buffy" was that the monsters were a metaphor for the horrors of adolescence," Gellar says. "And 'Wolf Pack' was taking that concept and doing it about [what they] face now: anxiety, depression, isolation. I really loved having a way to speak about that without being preachy, but sort of opening up that dialogue."

Gellar's already in talks for a second season – "the conversations are happening," she tells Variety – and, for the first time, she's seriously considering embarking on her directorial debut, if the right project comes along ("I think if something came my way where I said, 'Oh, that's my story to tell'"). As for the recently-announced "Cruel Intentions" TV adaptation? "I've learned a lesson with that," she says. — read more at the source.