Archive for the 'Scooby-Doo' Category
21 years ago, Sarah Michelle Gellar made her debut as Daphne Blake from the iconic franchise « Scooby-Doo », while not being a critics' darling, the movie was a box office success with a total gross of $275.7 million globally ($153 million domestically) which prompted the studio to release a sequel two years later. For her role, Sarah won Choice Movie Actress – Comedy at the Teen Choice Awards.
After an acrimonious break up, the Mystery Inc. gang are individually brought to an island resort to investigate strange goings on.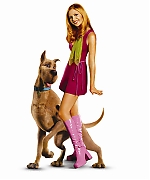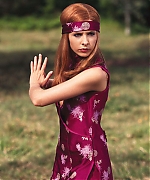 Did you know that…
— The director, Raja Gosnell, wanted a real-life couple to play Daphne and Fred. His first choice was Sarah Michelle Gellar and Freddie Prinze Jr.. Freddie didn't originally want to do the movie because he felt it wouldn't live up to the Scooby cartoons, but Sarah talked him into it.
— This film was originally set to have a much darker tone, essentially poking fun at the older cartoons, and was set for a PG-13 rating. Shaggy was set to be a stoner, Velma and Daphne had a side relationship, and there were many marijuana references. According to Sarah Michelle Gellar, after the cast had signed on, there was a change and the film became more family-friendly. However, by 2017, James Gunn confirmed that the original cut of the film got an R-rating and had to use CGI to cover cleavage.
— Sarah Michelle Gellar had to film Scooby-Doo around her already hectic Buffy the Vampire Slayer (1997) schedule. The producers of both productions arranged it so that she would spend two weeks in Los Angeles shooting Buffy, then the next two weeks in Queensland, Australia filming Scooby-Doo.
— The original script had a scene that included a joke aimed at Fred's (Freddie Prinze Jr.) sexuality. She said, « We were having a fight, Daphne and Fred, and then I yell at him, 'And that ascot makes you look gay!' And I slam the door and they cut that. » In fact, Gellar found that particular scene so funny that it became « the reason I actually signed onto the movie » in the first place.
— Sarah Michelle Gellar said in Jan. 2023 that there are multiple cut scenes from the 2002 film that deserve to see the light of day, including a steamy kiss between Daphne and Velma.